Ana de Armas Buys $7 Million Home in Noted Ezra Miller Crime Zone
These two are now the most famous Vermonters since Bernie Sanders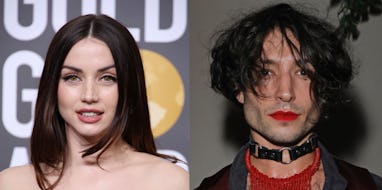 L: Daniele Venturelli/Getty Images R: David M. Benett/Getty Images
Bennington Guest Lecturers
Up until recently, the great state of Vermont had two notable residents: Senator Bernie Sanders and character actor Luis Guzmán. That was until today, when it was reported by Page Six that Blonde actress Ana de Armas bought a $7 million home in the state back in November, upping the area's GDG (gross domestic glamour) by about 100 percent.
According to the tabloid, de Armas's new six-bed, eight-bath abode sits on 30 acres of land in rural Vermont, exactly the kind of place to buy if you want people like me to stop writing about your every move. The estate also boasts "mountain views, open meadows, forests, trails and a swimming pool." Why you would want a swimming pool in a state where you can only use it for about two months of the year is beyond me, but for $7 million I bet that it's heated.
Page Six also reported that she bought the home furnished, which is probably for the best. De Armas wouldn't want to run the risk of any of her own items being burgled by Ezra Miller, the Green Mountain State's prince of crime.
Speaking of Miller, the fourth-most notable Vermont resident just took a plea deal to have charges of burglary and petit larceny waived from an incident in which they were accused of stealing three bottles of liquor from their neighbor's home. Miller pleaded guilty to trespassing, which comes with a penalty of $692. That's chump change for someone who will be, against all odds, opening one of the biggest movies of the year in a few months.
What will these neighbors — it is my understanding that everyone in Vermont is sort of neighbors — get up to as the most famous people in the state? Opening a youth acting school in a barn is probably out, as Miller has a questionable history with minors. Maybe they'll link up and start making maple syrup together, opening up a confectioner's shop like Paul Rudd and Jeffrey Dean Morgan. Or maybe they'll start a book club dedicated to authors who have spent time in Vermont; first up: American Psycho!