Anna Delvey Is Already a Better Talk Show Host Than Fallon
The fake heiress is developing a show called 'Delvey's Dinner Club' while under house arrest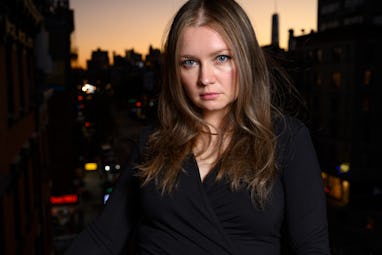 Variety/Variety/Getty Images
Taped live from a barricaded bathroom stall in the lobby of the 11 Howard Hotel, it's Anna Delvey's talk show! Just kidding, she's still under house arrest, so production HQ is gonna have to be a soundproof closet in the East Village apartment she's staying at after being released from ICE custody on a $10,000 bond. Still, quite a chic announcement. Delvey was born to host comped dinner parties and ask invasive questions.
Page Six reported that Delvey, the Russian-born pretend heiress/comedic genius is developing a series called Delvey's Dinner Club wherein she will invite "celebrities, moguls and glitterati" to discuss "her experience within the criminal justice system and how she will be rebuilding her image after being labeled as a con artist." Presumably she will ask them questions as well. Delvey told Page Six that her dream guests would be Marina Abramovic, Madonna, author Ottessa Moshfegh, Elon Musk, the Secretary of Homeland Security Alejandro Mayorkas, and Cy Vance, the Manhattan District Attorney who indicted Delvey in 2017 for charges including second-degree grand larceny and theft of services.
Delvey will be joining a crowded field of talk show hosts. The show is going to be produced by Wheelhouse Entertainment, which was co-created by Jimmy Kimmel Live!'s own Jimmy Kimmel. Delvey is creating this show to let people know the "real her" after signing away the life rights to her story to Netflix for $320,000, and I can only guess what that means.
Her interview style could be like Ellen, in that she'll be negging her guests the entire time while scowling at their shoes. Probably less dancing, though, because of the ankle monitor. She's smarter and funnier than Jimmy Fallon and less Catholic than Stephen Colbert, bitchier than Andy Cohen and more cuckoo than Drew Barrymore. Really, nobody can compete with this star, except maybe the women of Red Table Talk.