Sad Sack of Pitt: Brad Brushed Off By Oscars for 'Babylon'
Maybe pack it up vis a vis acting and really focus on your genderless grape serum line or reconnecting with your six children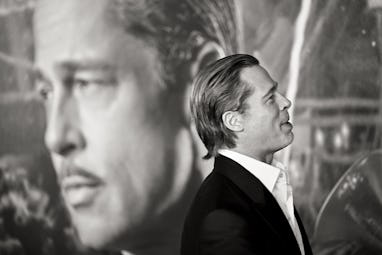 Michael Buckner/Variety/Getty Images
Brad Pitt's work in Babylon, a three-and-a-half-hour movie about the dawn of the golden age of Hollywood that isn't Mank, didn't get nominated for an Oscar. Maybe when you're the undemocratically elected Mayor of Tinseltown (my vote went to Nelson Franklin…), you must be required to take yourself out of the running during awards season. Or maybe it was because we don't need another film about the Roaring Twenties because we've all seen enough flapper-themed parties on Real Housewives of Wherever to last a lifetime.
The Pitt-less Best Actor nominees consist of Paul Mescal (Aftersun), Colin Farrell (The Banshees of Inisherin) (Ireland is trending!), Austin Butler and his voice (Elvis), Brendan Fraser (The Whale), and Bill Nighy (Living). That's a lot of men, and I of course hope that the Academy right their wrongs and allow women into the category someday.
In addition to Pitt's Best Actor snub for his portrayal of old-timey film star Jack Conrad, Babylon was not nominated for Best Picture. Nor was Margot Robbie — who plays an up-and-coming talkie star named Nellie, which is always what characters in the 1920s are named in movies — for Best Actress. Nor was Damien Chazelle for Best Director. The film was nominated for Best Score, Best Production Design, and Best Costume Design, but — no offense to all the hard-working folks who worked on those aspects of Babylon — no one cares.
First the winery lawsuit, then being outed as an alleged piece of shit, and now his ultra-expensive vanity project bombing in theaters and among Academy voters? Pitt's flop year continues. In lieu of a career resurgence or a functional relationship with his six children, at least he's got God's True Cashmere.
Pitt's legitimate girlfriend Ines de Ramon, a "jewelry executive" who is aged anywhere between 29 and 33, is probably dragging his ass to his second home in Carmel-by-the-Sea to slather his wounds with his genderless grape serum.