Brad Pitt's 30ish-Year Age Gap With His Fake Girlfriend Is Totally Chill Man
They are somewhere between 26 and 30 years apart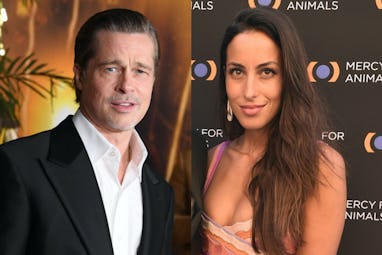 Photo by Steve Granitz/FilmMagic / Photo by Alberto E. Rodriguez/Getty Images
May Or Maybe June-December Love
Brad Pitt may not be the "Mayor of Hollywood," but he's certainly the mayor of one young lady's heart — the one belonging to his fake girlfriend, Ines de Ramon. According to Us Weekly, Pitt, 59, and de Ramon, 29 or 33, are more smitten than ever after spending New Year's together in Cabo. "Brad and Ines are having a really wonderful time with each other," a source told the tabloid. "Their relationship feels comfortable and playful."
The insider added that de Ramon is a "big hit with Brad's friends," whoever they are, and that the duo are "excited about what's to come next for them."
But what about their age gap? Based on several varied reports regarding de Ramon's age, they are somewhere between 26 and 30 years apart. That's almost or exactly three decades. Put another way, Pitt is almost or a little more than twice de Ramon's age. Which means that when de Ramon was a baby or a toddler, Pitt was a grown-up man dating Gwyneth Paltrow. Do any of these calculations bother them?
Nah. Us Weekly's source insists that Pitt has "more energy than ever," and that the age gap "isn't an issue for either of them."
Speaking of a roughly 30-year time period, People reports today that Pitt has "quietly" listed his Los Feliz compound for about $40 million. The star bought the property, which he has expanded over the years, in 1994, right around the time de Ramon was allegedly born.
Pitt lived on the property with Angelina Jolie and their children until the couple separated in 2016. Now, a source tells People, Pitt is "looking for something smaller" in the L.A. area. The perfect place to settle down with a woman who graduated high school sometime between 2008 and 2012.