Big Vogue Still Trying to Push the Brooklyn Beckham and Nicola Peltz Agenda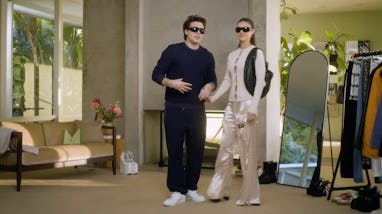 Vogue/YouTube
Vogue is once again trying to convince us that Brooklyn Beckham and Nicola Peltz have It, and once again we will not be fooled. The couple is back in the digital pages of the magazine, this time telling us all about what they wear in a week. This is, by my count, at least the fifth time they've appeared in various American Vogue editorial content in the last 12 months. How much of a kickback is Anna Wintour getting from this? Much like their previous collaborations with the magazine, this latest video is about as stimulating as flipping through Beckham's photography book.
I would never ask you to waste ten precious minutes of your life watching this, so allow me to recap it for you.
Monday
This is what Peltz calls their "Just One Thing" look, which makes no sense as a name unless you know that the couple was featured in a Vogue column of the same name a week ago. The theme was wide-leg jeans, and the article asked the question, "Have you ever considered that the lounge-friendly fit of wide-leg jeans makes them ideal for a romantic picnic?" I had not, but now I do see how two people who do not spend a lot of time in public parks might wear these outfits to sit on the ground.
Something that will become a bit of a theme is Peltz looking great while Beckham looks like he just walked off the set of Boy Meets World. He's wearing what he calls his "Doctor Martens," because he is dumb.
Tuesday
The couple's "vintage shopping look" is fine. Beckham is wearing his father-in-law's pants for some reason. At one point, Peltz points to a normal looking safety pin on her Chanel purse and says that her brother "made" it for his "company."
Wednesday
This one boggles the mind. These are outfits that they picked out for each other because they love them so much. Peltz says that Beckham is wearing a "vintage Champion sweatshirt." So are all of our dads, babe. Note the jeans that are far too long for what I'm going to guess is Beckham's… 5'8'' frame. "He doesn't try, he's just himself," Peltz says, as if it weren't obvious.
Thursday
Day-to-night looks, that's something I haven't heard about in a minute. Beckham helpfully describes the concept for those of us who don't get it. "We would usually wear these to like, dinner meeting or a meeting, and then after the meeting we go for dinner." Got it. Peltz once again looks great, while Beckham appears to be getting all of his sartorial inspiration from scouting out the tiki bar at a Sandals resort.
Friday
Date night! Beckham is once again in his father-in-law's jeans. The less we say about that the better.
Saturday
Probably the best one yet. These are their "travel looks." Neither one is pulling off the sunglasses, but I appreciate the homage to their true form (aliens). I worry that Peltz will get chilly on the plane in that peekaboo Fendi top, but I imagine that one of the five things these people talk about is the temperature, so maybe it's her version of a conversation piece.
Sunday
Last, and probably least, these are their party outfits. For someone whose mother is literally a fashion designer, Beckham really cannot dress himself. He describes his style as "skater dad." A student of Freud would have something to say about how often fathers are brought up in this video, but we just don't have the time to delve into all of that. Peltz, as always, looks good enough. Whatever.
I think this whole video was an attempt to make these two seem charming and fun. It's a complete and utter failure in that regard. Every "joke" or "cute moment" falls flat, like when Beckham does an Italian accent and Peltz laughs as if he's the second coming of John Belushi. I do not believe anything about these people, and as such will continue watching every piece of content they put out in order to try and make sense of it all. In that regard, maybe they're geniuses. I wouldn't count on it though.