Celebrity Reconciliation Watch: Exes Sean Penn and Robin Wright "Get Along Great"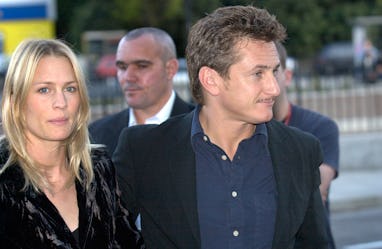 Ben Curtis - PA Images/PA Images/Getty Images
Are Robin Wright and Sean Penn getting back together? I really hope not, but the evidence that they have reconciled after divorcing in 2010 is piling up. Both are single right now: Wright, 56, filed for divorce from her third husband, Clement Giraudet, last fall, and Penn, 62, finalized his divorce from his third wife, Leila George, who happens to be Vincent D'Onofrio's daughter, last spring. Penn and Wright were spotted together for the first time in years last week returning from a trip at LAX, and they have since been photographed out and about together in LA. Oh shit.
A source told People today that Penn and Wright are not currently a "romantic item" but left the door wide open for them to couple up in the near future. "They are both single right now and get along great," the source said. "Sean has always said that Robin is the love of his life. He regrets many things that happened during their marriage. He really enjoys spending time with her now."
I bet he does. Penn and Wright have a long history of breaking up and getting back together: They did so several times before getting married in 1996, and they filed for divorce and reconciled multiple times before ultimately going their separate ways in 2010. In 2014, Wright explained their relationship in an interview with The Telegraph thusly: "One of the reasons why we got back together and broke up so much was trying to keep the family together. If you've got kids, it's a family, and you try again, and you try again."
The former couple's children Dylan and Hopper are now 31 and 29, respectively, but I guess it's never too late to get the whole gang back under one roof.
For Wright's sake, I hope Penn is doing better emotionally than he was a couple years ago. He revealed in an interview last year that he blamed himself for his divorce from George, explaining that during their marriage he was "totally depressed and driven to alcohol and Ambien at 11 o'clock in the morning, by watching the news, by watching the Trump era, by watching it and just despairing."
Maybe Wright has cheered him up?