What Can't She Do? Florence Pugh Got John Le Carré to Start Writing Again
Miss Flo is everyone's favorite muse, it seems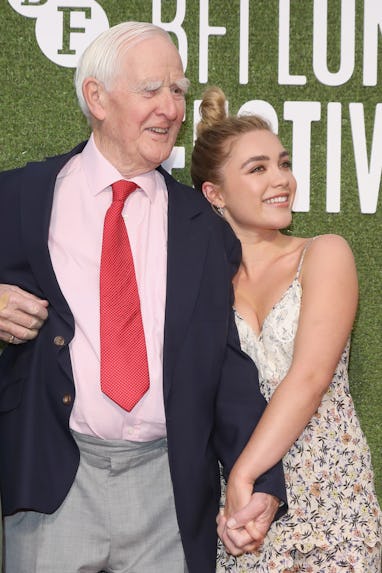 Tim P. Whitby/Getty Images Entertainment/Getty Images
Tinker Tailor Florence Pugh
Florence Pugh is on the cover of Vogue, promoting… maybe The Wonder? But also sort of A Good Person, her upcoming movie directed by her ex-boyfriend Zach Braff. Mostly she is promoting herself as a cool and interesting person, and it's working. Usually a Vogue profile pegged to almost nothing is a total snooze, but Pugh is charming enough to pull it off. It's called being one of the best actresses of your generation, darling.
After a long string of various people singing Pugh's praises (Scarlett Johansson, Braff, The Wonder director Sebastián Lelio), writer Chloe Schama takes something of a break to allow Pugh to toot her own horn. For the Little Women star, that means telling the story of how she was the person to pull legendary British espionage author John Le Carré out of his writer's block.
As Pugh tells it, she first met the author while working on the TV adaptation of his book The Little Drummer Girl. They were having dinner, and he said "something about women and money that she found a bit silly and a bit offensive." She called him "an old fucking fart" and then they became "best friends." So far, so good.
A year later, they saw each other on a red carpet and Le Carré told her that he had writer's block. "Just keep writing. Keep stretching your brain. Do it," she told him, which was apparently all it took for him to break out of it. The next time they saw each other he told her he had written her into his new book, Agent Running in the Field, which features a young spy named Florence who is "is a talented but occasionally insubordinate young spy with a penchant for red Burgundy." Get it? Pugh loves wine!
This story is nice in a vacuum, but a brief scan of Goodreads reviews finds readers who were not so impressed with Le Carré's tribute to Miss Flo. One reviewer wrote that Florence's backstory "while key to the story, is not really fleshed out beyond a fondness for red wine." Another said, "The character development is good with the exception of Florence whose back story, which I assumed would be revisited, was dropped."
You know what they say: You can pull the grumpy old man out of his writing rut, but you can't guarantee that he'll give your character a satisfying story. That's what Vogue is for.