Can the Golden Globes Make It Work?
All signs are pointing to no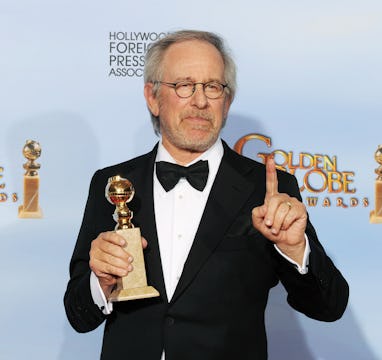 Kevin Winter/Getty Images Entertainment/Getty Images
Hollywood's fourth or fifth biggest night is making its grand return to television screens on Tuesday night. That's right, the Golden Globes are coming back. Were you aware that this was happening? Don't beat yourself up if you weren't — the nominations didn't exactly make a splash last month, despite the fact that they were announced by George Lopez's daughter.
Following a scandal about the lack of diversity within the Hollywood Foreign Press Association — alongside a different scandal about how stars could basically buy themselves a Golden Globe — the awards show was not televised last year. NBC, their longtime home, ended a contract that would have seen the Globes stay on the network until at least 2027. Now, the network is giving them one last chance to prove that they've really changed, and, more importantly, that they can bring in a sizable audience of viewers who want to watch their favorite TV stars get hammered alongside their favorite film actors. If not, next year the Globes will be searching for a new home.
The odds are stacked against the HFPA. First of all, the show is on a random Tuesday night as opposed to its usual Sunday. This is mostly due to NBC being the proud owners of Sunday Night Football, the only program that can reliably bring in viewers to the network. People who run television networks often make dumb decisions, but no one at NBC is stupid enough to forgo their cash cow in order to see if Hilary Swank takes home a statue for her work on Alaska Daily.
So the show has been mired in controversy and it's on a Tuesday night when people presumably have other things going on. Did they at least get Ricky Gervais back to host? (I do not fuck with the man, but if he's good at one thing it's hosting this show.) They did not. Matthew Belloni reported for Puck News that the job was offered to Jamie Foxx and Chris Rock, and that the producers asked Amy Poehler and Tina Fey to return twice, but no one wanted to do it. They finally landed on stand-up comic and actor Jerrod Carmichael.
Carmichael, if they let him do whatever he wants, will be a great host. Like Gervais, he does not seem to give a shit about making jokes at the expense of everyone in the room with him. In a recent interview on The Tonight Show, Carmichael told Fallon that one of his ideas for a promo spot was a joke about how when he gives head he looks "like Viola Davis in an emotional scene." The bigwigs didn't go for it, but you get the sense that Carmichael will be more than willing to push the envelope on Tuesday night.
The HFPA might not want that, but they do need it. The only problem with Carmichael is that he is not a big enough star to draw in an audience who otherwise does not care about the Globes. The Venn Diagram of people who spent last year gushing about Rothaniel and people who already know that the Globes are on Tuesday is almost a complete circle.
But hey, a host isn't everything. Will there be cool celebrities there? Well, that depends on what your idea of a cool celebrity is. Both Eddie and Ryan Murphy are being honored, so they'll be there bringing in an audience of people who love men past their prime. Belloni reported that Brad Pitt and Steven Spielberg will be in attendance, as will Quentin Tarantino. According to Deadline, President Volodymyr Zelenskyy will also be part of the show, "offering a special message of peace which will be introduced by Sean Penn." So, I'm sure that's cool to someone.
There are so many ways this can go wrong, and only a few where it can go right. In the dream scenario for the HFPA, Carmichael will open the show with a killer monologue that immediately goes viral, perhaps one that lovingly roasts the voting body and addresses Carey Mulligan's American accent, then there will be a string of speeches from fan favorites like Jennifer Coolidge that are both rousing and funny, and the night will end with a shocking revelation that gets everyone talking the next day (Spielberg announces he's doing a Marvel movie, I don't know).
In all likelihood, this will not happen and the Globes will pull in a meager three million viewers if they're lucky. My guess is that next year the show will stream exclusively on Amazon Freevee, and in seven years it won't exist at all. Although, if they really want to turn things around, I've heard that a well-timed slap can bolster ratings. Maybe Brad Pitt?