Jenna Bush Hager Recounts Barbara's Grandmotherly Advice: Keep It Tight
The otherwise unproblematic First Lady didn't approve of teenage Jenna's teeny weeny yellow bikini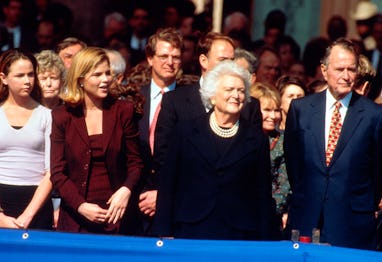 Paul S. Howell/Hulton Archive/Getty Images
As far as the children of dynastic ruling families go, Jenna Bush Hager and her peer-in-nepotism Prince Harry have a lot in common. For example, both have felt the impacts of war: Jenna's dad, Ol' W., ordered invasions of Afghanistan and Iraq, while Harry killed 25 Taliban guys in Afghanistan. Harry had a frost-nipped peepee at his brother Prince William's wedding, and Jenna was going full commando at Prince Charles's house when the Queen died. But most importantly, Bush Hager has made the decision to join Haz in spilling about their stiff-limbed matriarchs this week.
On Today, the former First Daughter revealed that she didn't wear a bikini for years because of a comment that her grandmother — the late, great Barbara Bush — made about her body as a teenager. Old Babs purportedly told young Bush Hager that she was "looking chubby" in a yellow two-piece. That verbal jab apparently followed Bush Hager for life; according to Page Six, she didn't wear a bikini again until 2022, after having three kids via C-section.
The Today co-host clarified that she adored her grandmother's "biting wit" (which might be synonymous with "amazing[ly] racist" wit), and that the comment was the result of cyclical and epigenetic trauma. Sound familiar? Per Bush Hager, the Big B apologized years later, explaining that she had been told the same by her mother Pauline Pierce as a child. "Her mother always thought of her sister as the really beautiful one and would say it," Bush Hager said. "'Martha's the pretty one. You're the funny one. You're the smart one.'"
Bush Hager has spoken in the past about feeling insecure about her weight, even stumbling upon a list of childhood New Year's resolutions that included "lose four pounds." She could've lost a cool 98 pounds by telling her grandmother, the First Lady, to go kick rocks and choke on a pretzel while she's at it (but don't barf on the Japanese Prime Minister Miyazawa), but asserting one's self as a child is so, so difficult. Luckily, things get easier as time passes — who's dead weight now, Barbara?