Inside the Jojo Siwa Zoomer Lesbian Summit at Erewhon Market
It appears that Jojo is welcoming TikToker Savannah Demers to the squad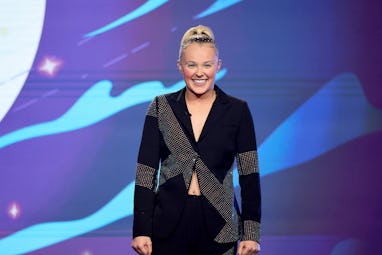 Matt Winkelmeyer/Getty Images Entertainment/Getty Images
Speaker of the House Jojo Siwa had a mid-day meeting at a grocery store with a fellow TikTok zoomer influencer named Savannah Demers. Siwa, who always has her finger on the pulse of what's hot, what's not, and what's Pennywise, must have known that lunch is trending, along with Ireland and the concept of "having the hiccups." Hollywood Life calls this meeting between the two 19-year-old influencers a "flirty lunch date" at Erewhon Market, the organic grocery where Hailey Bieber has been known to retail a $20 smoothie that makes your skin look glazed when applied topically.
"They appeared to be enjoying each other's company," Hollywood Life wrote. "The pair were seen smiling and laughing during their day date and at one point, JoJo even opened the door for Savannah, who is also 19."
The door thing proves nothing. Newsflash: chivalry isn't dead, mama, especially for women born in Nebraska like Jojo was. I don't think the meet-up was flirty at all. Of course, we must consider that Siwa is still ailing from a broken heart after being used for "views and clout" at a terrifying Carnival cruise with ex-girlfriend Avery Cyrus last month. But more to the point, it seems like Demers, who has 2.4 million followers on TikTok, came out yesterday on the app and did a girlfriend reveal. Good for these two, who seem 19 years old as hell!
It's clear to me, an outsider who spends a lot of time on Reddit, what's going on here. The final negotiation process when becoming a Gen Z lesbian influencer is a summit with Jojo Siwa during business hours at an Erewhon on neutral ground. From there, Siwa will make the final call on whether or not the candidate has the right stuff to fit in with the fellow hotties at the hype houses. If selected, Demers will be "tapped" and eventually offered a small pin in the shape of a skull wearing a bow. Instead of crossbones, it's adorned with a pair of scissors, signifying freedom from past haircuts your mom made you get. Will Demers be able to use her newfound platform to deliver the goods? For now she's rocking the hell out of an oversize v-neck sweater, and that is approximately 99% of the gig. Mission accomplished for Jojo, and onto the next!