Julia Garner Released from Hell (Madonna Biopic)
The joke is on you if you thought this movie was ever going to happen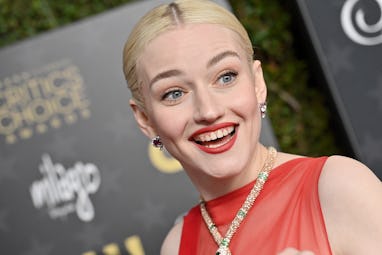 Axelle/Bauer-Griffin/FilmMagic/Getty Images
There is a whole wide world of Hollywood "what if…" stories. What if Noah Baumbach's version of The Corrections got greenlit at HBO? What if Gwyneth Paltrow had figured out a way to get The Secret History made? What if they actually let Nicolas Cage play Superman? All of those questions provide a brief moment of wondering what might have been, and usually I think, "Well, that could have been cool." Today, we have a new one to add to the list: What if Madonna had actually made her biopic with Julia Garner?
The project has been speculated about for years now, with alleged drama surrounding everything from the screenwriting process to a boot camp in which every starlet out there tried their hand at being Madge. Now Variety is reporting that the biopic is taking an "indefinite holiday" (haha) in order for Madonna to go on a world tour.
This is the best case scenario for all involved. Have you guys seen what Madonna has been up to recently? Did you watch the video in which she plays truth or dare at a dinner party with Judd Apatow, Lil Wayne, Amy Schumer, Diplo, and Kate Berlant? It is one of the most uncomfortable pieces of content I've seen maybe ever, and the fact that she saw a final cut and approved it is not the sign of a creative mind working at its highest ability.
As for Julia Garner? She's free! With this out of the way and Ozark over at last, she is finally out from under the thumbs of two floundering creative entities (Madonna, Netflix). The world is her oyster, and I hope she knows that she's dodged a bullet. Come to think of it, she'd be a good Camilla in a Secret History adaptation. Maybe we can get that going again.