Road Dog Kate Middleton Rides Out 'Spare' Drama
She's fast, she's furious, and she's going to school drop-off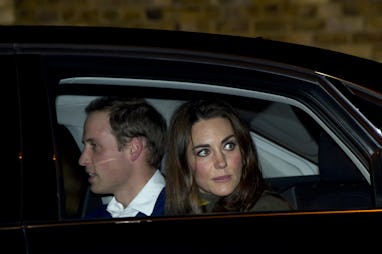 CARL COURT/AFP/Getty Images
Page Six has scooped the shocking first photos of Kate Middleton since the release of Spare, in which her baby Haz-in-law blames her and her husband Willy, the future king with the fading beauty and the lion leotard, for telling him to wear a Nazi armband to a colonial and natives-themed fancy dress party. Harry also delves into the debacle over the famed child-sized pantyhose at his wedding to Mrs. Markle that served as the first snag of nylon in bringing down the British empire. The row was actually over a dress that was too big for little Charlotte, despite media reports.
Here's the pic:
Kate, who has a reputation for being nucking futs as fuck, may understandably be raging the hell out at lil' Harry, enveloped in her own gloopy and furious "red mist" (this is not a period joke, women can be wackadoo without the presence of blood, and I would never suggest that the Princess and mother of three has any reproductive organs).
Crikey! One eyebrow cocked – that's Duchess for "I'm calling The Daily Mail, and this time, the story's going to be about how you made James, Viscount Severn cry." And she's driving a car, probably straight into the fucking moat at Windsor Castle because she's so mad right now! Do not untie that smart scarf around her neck. Her head will fall off.