North West Is a TikTok Horror Auteur
Yeah, Kim Kardashian's a chav today. But North is a genre-flouting visionary every day.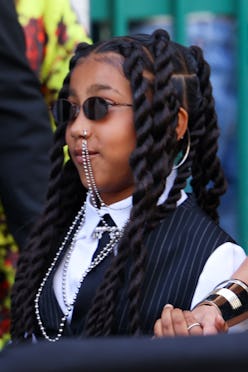 Pierre Suu/Getty Images Entertainment/Getty Images
Kim Kardashian is making headlines this morning for doing her makeup like a British chavette while participating in a viral TikTok trend. She chews gum to get into character as working class and ends up looking like Eyebrow Mum. The video is amusing to me because she used to do her foundation and lips like this in earnest before Kanye got to her.
I'm not sure why this is the TikTok that's blowing up from this account, which Kim shares with her daughter North West, whom she has described as a "full goth girl." North is also the real star. It might be mild fun to watch foundation bake into Kim's face for the millionth time, but when North is at the helm of the account, the content is a beautiful dark front-facing fantasy. The nine-year-old filmmaker's TikToks defy classification and complicate reality TV tropes about wealth, vanity, promotional partnerships, and James Cameron's Avatar franchise.
North uses her famous mother, siblings, and aunts as props, subverting the longtime Kardashian-Jenner practice of using children as accessories on television to advance certain cooked up narratives about motherhood.
North is also one of the main players in the "elevated horror" movement. Many of her videos have content warnings affixed to them for their bloody gruesome nature. She's not scared of the offal and blood that makes up the human face and body, as if her propensity for gore and stage makeup is a strategy to pull back the curtain on her family's tendency to obscure and divert when answering questions about facial filler and plastic surgery. Very Cronenbergian.
Body horror is an everyday reality in this family, North seems to say. She inherited it, without her consent.
North is a genius. She's dark-sided, she's funny, and she's too punk rock for that sad gray house Kim makes her live in.
If I weren't so concerned about what's going on over there, spiritually speaking, I'd suggest North go inject some much needed life into Donda Enterprises as their youngest ever creative director.