Princes Harold and Willy Rowed Over Which One of Them Gets to Own Africa
A small child asked them, "Why can't you both work on Africa?" and BOOM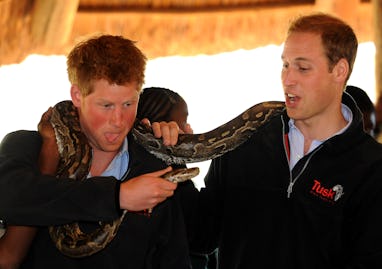 Anthony Devlin - PA Images/PA Images/Getty Images
We all know that Prince Harry famously called his brother Willy an ugly and bald apostate in Spare, but that's not even the most shocking grievance I've come across so far in the ickle brother's newly released memoir. No, that would be Harry's anecdote about William being an Africa hog, even though that's totally Harry's thing. And yet, according to the scorned prince, Willy suffered from delusions of believing that Africa was his birthright — a little too late for that, colonizer!
There are scores of Africa-centric anecdotes in the book: when Pa and Harry saw the Spice Girls alongside Nelson Mandela (a close friend of Meghan's, I'm sure) in Johannesburg; a safari in Botswana with "Marko and Willy and Tiggy [Legge-Bourke, the boys' nanny who preferred to be called a friend]"; a first kiss with Chelsy Davy, daughter of a big game farm owner in Zimbabwe, whom Harry had met years earlier at the Berkshire Polo Club; a tent visit from a leopard; some "African weed that was much harsher than Eton weed"; conservation work in Malawi; and mentions of his and Meghan's dream to elope "barefoot in Botswana."
Harry also found a way to rope in Africa when describing his Nazi armband mishap — which, as we all know, was Willy's fault — at the "natives and colonial"-themed party. Harry invoked a birthday party that his older brother had held with an Out of Africa theme. "I found it irritating and baffling," Harry wrote. "Every time I'd gone to Africa I'd worn shorts and a T-shirt, maybe a kikoi. Would that do, Willy? But this was magnitudes worse."
And then, when Harry wanted to throw himself into more good works on the continent, he and Willy apparently had a row. "One small problem: Willy. Africa was his thing, he said," wrote Harry. "And he had the right to say this, or felt he did, because he was the Heir. It was ever in his power to veto my thing, and he had every intention of exercising, even flexing, that veto power." One day, per Harry, they "almost came to blows" in front of the son of some "childhood mates" when he asked why they couldn't both work on Africa.
"Willy had a fit, flew at this son for daring to make such a suggestion. Because rhinos, elephants, that's mine!" Harry wrote. "It was all so obvious. He cared less about finding his purpose or passion than about winning his lifelong competition with me."
It all came to head until Harry froze his todger in Antarctica, and he found out Willy was jealous of his intrepid trek and subsequent charity work protecting animals from ivory traders. Harry wrote, "He'd felt slighted that he hadn't been the one invited. At the same time he also said that he'd stepped aside, gallantly, that he'd permitted all my work with wounded soldiers. I let you have veterans, why can't you let me have African elephants and rhinos?"
Like a little bitch brother, Harry then immediately embarked on a "four month fact-finding trip" about Botswana, Namibia, Tanzania, South Africa, and the war over ivory poaching. He won that one. Or actually, the poachers did. Still — a point against Willy!