Prince Harry Has Debased Himself to the Top of the Bestseller List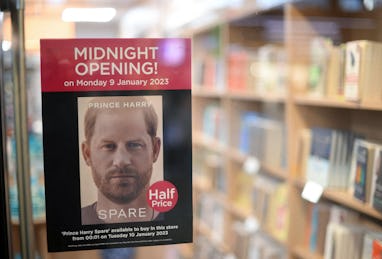 DANIEL LEAL/AFP/Getty Images
HIGHNESS (ON BESTSELLER LIST)
It feels like Prince Harry's memoir, Spare, has been coming out since Christmas, thanks to breathless media coverage, endless teaser interviews with the banished prince himself, and a series of apparent "leaks," in which some reporters got their mitts on advance copies, in spite of Harry's publisher's tight security. Technically speaking, the book is not out yet. The official drop comes tomorrow.
At this point, it's hard to imagine Spare has much left to offer other than some connective clauses and more asides about how Harry and Meghan apparently give a "voice to the voiceless through media production." From all the coverage, for example, we already know that William (a.k.a. "Willy") and Kate allegedly egged Harry on vis-à-vis dressing like a Nazi at a "Native and Colonial" theme party in 2005. We know that Willy and Kate were so-called "religious" watchers of Suits, but also that Willy purportedly gave Harry a beat-down after Harry married Meghan, which seemingly involved throwing him onto a dog bowl. We know that Meghan and Harry fought once over a conveniently unspecified cultural clash; that Harry had a frostbitten penis at Willy's big wedding, due a 200-mile charity sojourn in the Arctic; and that Harry, to quote Gawker royals correspondent Claire Carusillo, "lost his virginity in a 'quick ride' in a 'grassy field behind a pub' to an elderly horse girl who treated him like a 'young stallion.'" We also know that Harry killed 25 people in Afghanistan.
One might think that the print media and gossip rags of at least two major colonial powers picking over the manuscript and publishing virtually every other paragraph of it might take the wind out of Harry's book sales. But, as the New York Times noted this morning, Spare is doing just fine. Harry appears to have debased himself into the top slot on both Barnes and Noble's and Amazon's bestseller lists from pre-orders alone. Not bad for the former fifth-choice for king, even if several major distributors are offering the book at half-price.
It may help that Harry was, for most of his life, a prince in a royal family possibly worth more than $28 billion, whose daily escapades are so highly scrutinized that they can barely pick up dog poop without putting tabloid writers on the late shift. But we have to give Harry credit for going the extra mile in self-humiliation. No one cared about then-Prince Charles's 2012 release, Harmony: A New Way of Looking At the World, which argued, as one Guardian review summed up, that "there is an innate harmony and interconnectedness of all things, known to almost all cultures except for western civilisation from the 17th century on." The latter was apparently "lured by rationalist theories into" what Charles called the "Great Divorce," that involved "forgetting God and putting all our faith in material things." (One fix he recommends: homeopathy).
Kate's COVID photography book, Hold Still, didn't even crack the New York Times Best Seller list when it dropped in May 2021 (the top spot went to George W. Bush's collection of paintings). And did you know HRH The Duke of Kent put out a memoir last May called A Royal Life? Probably not, as it hasn't even made the Top 150 of Amazon's category: "Royal Historical Biographies." Maybe because at least five spots on the list are currently occupied by various versions of Spare.