Rihanna Fumbles Principles for Halftime Show
Does the former Super Bowl boycotter have a trick up her sleeve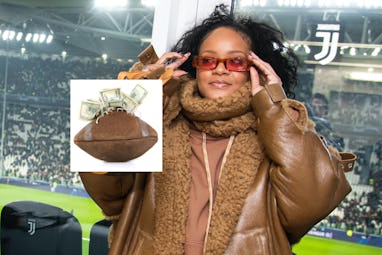 Giorgio Perottino - Juventus FC/Getty Images Sport/Getty Images
The Super Bowl, America's favorite non-religious holiday, is a little more than two weeks away. It's still unclear which teams will square off at Arizona's State Farm Stadium on Feb. 12, but we all know at least one person who will be playing: Robyn Rihanna Fenty, will be headlining the game's halftime show.
Rihanna has been on NFL Head of Music Seth Dudowsky's half-time show wish list "for years." But she has already, very publicly turned down the offer to perform. In 2018, Us Weekly reported that Rihanna had rejected the NFL's halftime invite in solidarity with Colin Kaepernick, a year after he was forced into free agency for kneeling during the National Anthem. She doubled-down on her NFL boycott when Vogue asked if she'd turned down the show in a 2019 interview:
Absolutely. I couldn't dare do that. For what? Who gains from that? Not my people. I just couldn't be a sellout. I couldn't be an enabler. There's things within that organization that I do not agree with at all, and I was not about to go and be of service to them in any way.
In the four years since, Rihanna's trajectory has only made a halftime headline seem less likely. For one, she has not performed in public since 2018, when she appeared with DJ Khaled at the Grammys. For another, she has not put out new music since 2016's ANTI, unless you count the two Marvel-branded singles she contributed to the Wakanda Forever soundtrack. Instead, she has largely tapped out of music, focusing instead on her beauty line, her fashion brand with Moët Hennessy Louis Vuitton (LVMH), intermittent acting roles, being a billionaire, and having a baby. Now, Rihanna is poised to give her first live show in five years for the same gig she once likened to selling out. "I can't believe I even said yes," she told Entertainment Tonight in November. "It was one of those things that even when I announced it, I was like, 'OK, I can't take it back. Now, it's like final.'"
Clearly, something has changed in the interim. Maybe spending four years talking to LVMH executives has melted Rihanna's gray matter and she no longer cares about her stance on the NFL kneeling protests, or anything else the league has gotten up to since. The media and the players sure have moved on. Kaepernick may still be a free agent, but he got his Nike deal. And the NFL, after years of public grumbling, made some modest concessions to their critics, if mostly symbolic ones. They added the Black national anthem, "Lift Every Voice and Sing," to the pre-game ceremonies; introduced generic helmet slogans; and agreed to donate $250 million over a decade to charities that "combat systemic racism and support the battle against injustices faced by African Americans." The commitment boils down to just $25 million a year — pennies for a league valued at more than $91 billion — but it's plausible that the NFL's social-justice lip service did the trick, and Rihanna was happy to forgive them. That would certainly explain why she dropped a limited-edition collection of football-themed Savage X Fenty lingerie a month before the show.
Or perhaps she was swayed by the fact that Jay-Z's entertainment company, Roc Nation, is producing the show; the two musicians go way back. Jay-Z signed Rihanna to Def Jam back in 2005, when he was still president, and she followed him to Roc Nation in 2014, where she released ANTI. But Roc Nation's involvement in the Super Bowl is not new. In fact, the company first partnered with NFL back in 2019, the same year Rihanna said performing for halftime would make her an "enabler."
There are some indications that Rihanna might have something bigger in the works. There were reports that Apple TV+ had paid "millions" to turn the show into a documentary, a deal that suggests something interesting enough to fill two hours, rather than the halftime's 12-minutes. There were the rumors that "at least one other artist, whose identity was not made public, is said to be in talks to possibly co-headline," which opens the possibility of surprise guests. And there have been Rihanna's rare comments on the show, all reiterating that she sees it as a "challenge" distinct from its predecessors. "If I'm going to leave my baby, I'm going to leave my baby for something special," she said in one interview, adding in another: "I have to live up to that challenge."
If she does have some trick in the works, Rihanna wouldn't be the first halftime performer to critique the NFL from its own stage. Though one would hope she would pull it off slightly more legibly than Eminem, who took a very quick knee during the Super Bowl last year in what one could have easily mistaken for a stumble. Rihanna has billed the performance as a reflection on her work to date, playing a clip of her 2016 song "Needed Me" in the trailer, and telling Entertainment Tonight she wanted to "incorporate different aspects of entertainment and things that I just enjoy," and "celebrate the music that I've made." It would be hard to separate her former NFL opposition from a retrospective on its own stage, but it remains to be seen if she'll try.