Robyn and Juan Dixon Say 'We Deux!'
The 'Real Housewives of Potomac' stars tied the knot for the second time, despite Karen Huger's best efforts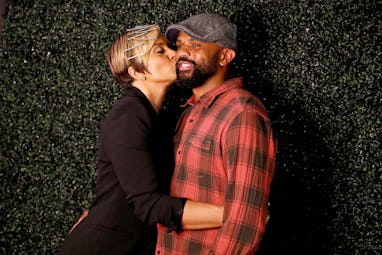 Bravo/NBCUniversal/Getty Images
Real Housewives of Potomac's Robyn Dixon and Juan Dixon got married again, proving that if we can just get ourselves out of bed in the morning, we can accomplish anything. Robyn, who is both the sleepiest and most stunning women on television, and Juan, who is just slightly more stimulated in his own right, were first married in 2005 and divorced in 2012. According to People, three different sources confirmed that their wedding will be shown on this season of RHOP's finale.
I think I'm happy for them, even though according to co-star Karen Huger, Juan's been seen romping around Georgetown holding hands with a blonde woman who, incidentally, looks a lot like Karen Huger. Infidelity seems to have plagued their first marriage and perhaps as a result, we saw Robyn meet with a lawyer over an infidelity clause in their prenup in an episode this season. Juan, who is the head basketball coach at Coppin State University, has also been accused of turning a blind eye to a situation allegedly involving one of his colleagues catfishing a student player.
Much ado has been made about the high-school sweethearts dragging their feet to the altar. Robyn and Juan got re-engaged in the Season 5 finale of RHOP, and then Covid hit, and they never could quite get their act together. On the Jan. 15 episode, Robyn announced to the group that they'd be getting married in Jamaica on the heels of Juan's brother's destination wedding, with just their teenaged sons Corey and Carter in attendance. Many of Robyn's co-stars doubted that they were actually planning to go through with it, with Huger going so far as to call it a "fake wedding."
Though it's not entirely clear if the Dixons got married in a piggyback ceremony in Jamaica, People's sources said that the footage of the wedding was filmed after wrapping, and none of Robyn's co-stars were in attendance. Not even Michael Darby.