Is the Cast of 'Short Term 12' Cursed?
Everyone involved with the decade-old indie darling seems to have made a deal with the devil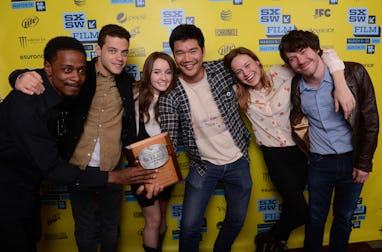 Michael Buckner/Getty Images Entertainment/Getty Images
In 2013, a curse was set upon a group of young actors and one young director. They all worked on a critically acclaimed indie movie that would launch many of their careers, but it came at a price. I am, of course, talking about Destin Daniel Cretton's Short Term 12 and its cast of at-the-time unknown actors who would all go on to become very successful stars haunted by a lingering darkness and an emptiness behind the eyes.
Short Term 12, a small movie about the staff and residents of a group home for teenagers, somehow landed upon a cast that is, only in retrospect, absolutely "stacked." Helmed by Brie Larson, the film also stars Rami Malek, Lakeith Stanfield, Kaitlyn Dever, Stephanie Beatriz, and John Gallagher, Jr. Between them there are now two Oscar wins, an Oscar nomination, an Emmy, several Golden Globes and Screen Actors Guild awards and nominations, and a Tony.
You'd think that would mean that this movie is a blessed artifact of the 2010s, and it is, in some regards. But this movie is also cursed. It appears that everyone involved made some kind of Faustian deal, in which they would be heaped with praise and awards, but only if they eventually became the poster children for unsettling personalities and poor career planning in Hollywood. In March, it will have been ten years since Short Term 12 debuted at South by Southwest, so let's check in with everyone involved and see how the curse has manifested in their lives.
Kaitlyn Dever and Stephanie Beatriz
Let's get these two out of the way right now. They appear to be the only members of the main cast to have emerged from Short Term 12 semi-normal, if not thriving. Dever starred in Booksmart and recently received an Emmy nomination for her work in Dopesick (a show that I don't believe is real, but seemed to do well with awards bodies). She's chilling. Meanwhile, Beatriz spent eight years on Brooklyn Nine-Nine and then voiced the main character in Encanto. That is to say, she is rolling in money and also chilling.
Destin Daniel Cretton
Following Short Term 12, Cretton was in the ideal spot for a young director. He had a critically beloved calling card film under his belt, and presumably had lots of bigwigs asking him what he wanted to do next. Unfortunately, the run of movies he's directed since is as follows: The Glass Castle (who?), Just Mercy (flop), and Shang-Chi and the Legend of the Ten Rings (the result of another promising director who was brought into the Marvel universe only to have any semblance of unique artistry wrung out of them). The pipeline that takes directors of small, intimate indies and turns them into cogs in the Marvel machine is one of the worst in Hollywood right now, and I hope he frees himself of it once he's done directing Avengers: Kang Dynasty and the Shang-Chi sequel. So, we'll check back in on him in another decade.
Brie Larson
My opinion of Larson has been stated on this website before, no need to rehash it here. I think her social media presence is incredibly unsettling, which would be fine if she were regularly doing good work in good movies (like her posting peer Jessica Chastain). Following Short Term 12, Larson won a well-deserved Oscar for Room, and then something broke. She directed a movie called Unicorn Store, she starred in Kong: Skull Island, and then she sold her soul to Marvel. She teamed up with Cretton again for Just Mercy, but unless you were the head of your office's DEI committee in 2020, you probably haven't seen that movie. Maybe vlogging will eventually work out for her.
Lakeith Stanfield
On paper, Stanfield probably has the best career out of anyone who emerged from this movie. He starred on Atlanta, he was nominated for an Oscar for his role in Judas and the Black Messiah, and he's been in hits both big and small with Knives Out and Sorry to Bother You. That's all great, and he's a great actor. Things get weirder when you pay attention to what he's like off camera. In 2021, he was a big fan of the app Clubhouse ('memba her?) and moderated an anti-semitic chat about Louis Farrakhan. In a different room, Stanfield entered a "moaning contest" and won $300. Just a few weeks ago, a woman came out and alleged that he was the father of her daughter and was keeping them as a "secret family" in the wake of his recent engagement to another woman. In turn, Stanfield said that he just didn't want to "blast [his] child out to the internet." Mess just follows this man around.
Rami Malek
Malek also won an Oscar after Short Term 12, but it's hard to say that it was well-deserved. His turn as Freddie Mercury in Bohemian Rhapsody can be charitably described as cartoonish, or, to be less generous, straight-up bad. Let's not forget his second-most wackadoo piece of work, which is this ad for Mandarin Oriental hotels in which he says he is a fan of his mom, mischief, and "equal opportunities for all." Luckily for Malek, he received good reviews for his turn in No Time to Die, and no one saw Amsterdam. But things are looking up for him — he's going to be in Christopher Nolan's Oppenheimer this summer — and he might actually be the first person to break free of the Short Term 12 curse.
John Gallagher, Jr.
The one cast member whose star actually declined following Short Term 12, Gallagher had to do two more seasons of Aaron Sorkin's The Newsroom following his wonderful turn in the movie. Rough break. He could have been launched as a sensitive Andrew Garfield type. You'd buy him as a Mormon grappling with his faith while also solving a murder, right? Most recently he trotted himself out for the Spring Awakening reunion tour, standing alongside Jonathan Groff and Lea Michele as they revealed every insane detail of their yearslong friendship. This man won a Tony a week before his 23rd birthday, he deserved a better shake.