Celebs Avoid Engaging With Stacy's Pita Chips at Sundance
If you can't get Bella Thorne to hold a bag, you've already lost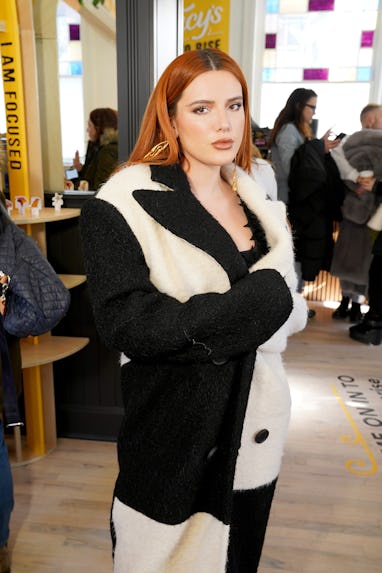 Presley Ann/Getty Images Entertainment/Getty Images
The hottest name at the Sundance Film Festival this year isn't Jonathan Majors, or Julia Louis-Dreyfus, or Anne Hathaway. No, this year the ingénue on everyone's lips in Park City, Utah, is Stacy — as in, Stacy's Pita Chips' Stacy. Stacy's is taking part in one of the great Sundance traditions: offering up a warm room where celebrities can hang out and have their picture taken in between their next engagement (hanging out and having their picture taken).
However, Stacy's did not just throw a bunch of snack packs into what I'm told used to be a restaurant owned by Robert Redford and call it a day. In the spirit of the festival, the chip company made a short film called Rise, in which b-roll of women who own small businesses plays while Rupi Kaur reads an original poem. I'm hearing word that Netflix might buy it for $100 million.
Sorry to Stacy, but I do not care about her short film. I wanna see some famous people! Let's see who showed out at the Stacy's Root to Rise Market at Sundance, and more importantly, let's see who deigned to go near a bag of pita chips.
Stacy Madison
This is the Stacy, founder of Stacy's, posing in the way that should have been the blueprint for the rest of the pop-up. She's smiling, she's holding the product — surely whoever set up this pop-up knows that these are the kinds of photos you want from an event like this.
Alia Shawkat
Being rude about a woman's bangs goes against everything the Roots to Rise Market stands for, so instead I will say nothing. No chips, though.
Boots Riley
No chips for the director, but he did pose right in front of the logo.
Debby Ryan
No chips here, but it does look like she's about to fall. Someone help her!
Bella Thorne
She's clearly having a great time and feeling empowered. At this point I must ask, if your PR person can't get a bag of chips in Bella Thorne's hands, what good are they? It cannot be that hard.
Marlee Matlin
Do you see what I'm saying? Oscar winner Marlee Matlin is standing ten feet away from a bag of chips, right in front of a big logo, and you can't get her to hold them? The whole point of these activations is to get photos of famous people adjacent to your product. Stacy's should have hired the person who set up the Coldstone Creamery step-and-repeat at the Critics Choice Awards.
Alexander Skarsgård
He's not even inside!
Jonathan Bennett
Finally, some good fucking food! The Mean Girls star is no stranger to working with brands — he and his husband Jaymes Vaughan made content about their drive to Utah as part of his role as a #nissanpartner — and would probably attend the opening of an envelope so long as there was cash inside. While this photo is exactly what Stacy's probably had in mind with their market, it does seem that Bennett and Vaughan kidnapped the photographer at one point. Included in the Getty album are more than two dozen photos of these two recreating an engagement shoot around Park City, nowhere near the Roots to Rise Market.
Was this some kind of trade? They hold the chips and in exchange they get some new photos to hang on a gallery wall devoted to their love? I'm on to you, Stacy.