Why Is Taylor Swift Always Showing Feet?
The woman loves to bare her sole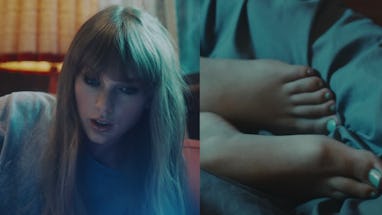 Taylor Swift/YouTube
Yesterday, in anticipation of Taylor Swift's "Lavender Haze" music video, I published my professional opinion about how most of her music videos are bad. I find them to be too reliant on a certain kind of CGI that makes everything look rubbery; they're either too literal or completely divorced from the song; and when asked to act — even for 30 seconds — Swift tends to get hammy. A byproduct of watching so many Swift videos in one day lead me to a different realization, which is that this woman loves to show feet. Cut to this morning, when I watched the "Lavender Haze" video, and had my suspicions confirmed with the very first shot.
If you can't be bothered to click play, here it is:
Would you believe me if I told you that this was actually not the first music video of hers to open with a shot of her toes? The first was about 15 years ago in the video for "Our Song." I will show you, but I should note that I feel nasty posting a 17-year-old's feet on the internet, even though the video has been viewed nearly 200 million times already.
While the "Our Song" foot feels like the byproduct of someone being weird about a teenager, the "Lavender Haze" feet shot was Swift's decision. She directed the video herself (slay), and presumably did not have to show feet if she did not want to. It's almost as if she likes airing out her dogs for the world to see. Pick any random Swift video, and there's a good chance you'll see her feet.
Before it was re-edited for being fatphobic, the "Anti-Hero" video — also directed by Swift — featured a very clear shot of her bare feet on a scale. Thanks to the good people of WikiFeet, that historic image has been preserved.
On WikiFeet, the website devoted to the feet of famous people, Swift has a five-star rating. This means that she has "beautiful feet," per the site. However, in the comments, there is something of a debate about whether or not her feet are actually beautiful. "They are average big girl feet. Ok but thats it," one user wrote. "I despise long nails so Taylor's toes are perfect for guys like us," wrote another. Gross!
But Swift has given these guys lots of fodder, so you know that they're making informed decisions. Here she is in the video for "Lover":
You might think this is normal, to be relaxing barefoot on the couch. But I would counter with this shot, in which she is wearing shoes on the bed:
Interesting, so she can cover them up when she wants to.
If there is one foot motif that shows up again and again in Swift's videography, it's that she will leap at the chance to walk barefoot outside. Just for you sickos, I have compiled a bunch of examples. Here are her feet in the video for "cardigan":
Here they are in "willow":
"Oh, but those two videos are part of the same story, of course she's barefoot in both." Do not try me. Here they are in "Safe and Sound," a track from The Hunger Games:
It's hard to get a good screenshot, but rest assured that she is barefoot for most of the "Mine" video:
Here are her sandy feet in "Out of the Woods" (another video in which she is barefoot the whole time):
In "Fifteen," she plays the guitar while sitting barefoot in a CGI meadow:
When she perfomed at the Grammys in 2021, she was — you guessed it — barefoot:
And if you prefer a more urban environment, here she is barefoot in a subway station in "Delicate":
Or maybe you're into sci-fi feet, in which case here they are in "Bad Blood":
What is the deal here? Is Swift pandering to perverts? Is she a pervert? I imagine that she knows what she's doing, because that's kind of her whole thing. Take, for example, this TikTok she posted last September:
One commenter wrote, "Taylor, I know you're new, but we don't give away foot content for free, bestie 😌." Sorry to that user, but they clearly haven't been paying attention. Taylor is always giving away foot content for free.