The Vibe of the Golden Globes Is Very Weird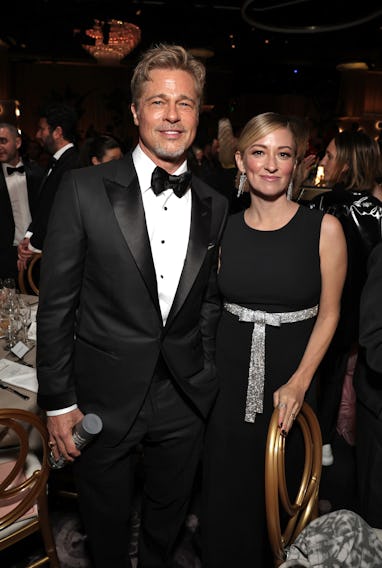 Todd Williamson/NBC/NBCUniversal/Getty Images
Is tonight the Golden Globes or a funeral for the Hollywood Foreign Press Association? Well, if you turn on NBC and/or Peacock and/or [REDACTED ILLEGAL STREAM], you'll see both happening at the same time. Despite a series of strong winners so far, an up-and-comer hosting, and an extended Jennifer Coolidge bit, no one seems very happy to be there.
This might be in part due to an energy put out by the Globes themselves. The show began and continues to cut to beautiful young pianist Chloe Flower cuing everyone in and out from commercial break. I like her: she seems talented. No beef with Chloe Flower, to be clear, but this job opportunity ought to have gone to the horned up not-Russian TÁR cellist or no one at all. A white piano? At the Golden Globes? A show where Ricky Gervais would typically show up with a beer?
Ah, but it's not those Globes anymore. Host Jerrod Carmichael — the Emmy-winning stand-up and writer — began the show with a quiet, measured opener about why he was there, an overt diversity hire if there ever was one. His monologue detailed the past offenses of the Hollywood Foreign Press Association, mainly their lack of inclusion in Black members. The audience was not really laughing, but the monologue was not particularly joke-rich either though certainly funny. Do any of the celebs in the room care about the past offenses of the HFPA? Like, half the people there were in Amsterdam.
There have been a whole host of good winners tonight — Everything Everywhere All At Once's Ke Huy Quan, Angela Bassett in Wakanda Forever, Tyler James Williams and Quinta Brunson in Abbott Elementary, and Chicago's least but also most Chicago guy, Jeremy Allen White for The Bear — all of whom seem honored and touched by the award, whether or not the people besides their significant others and publicists are rooting for them. Or maybe it's just early in the night, and all these people need a few more drinks in them and at least a half dozen play throughs of "Naatu Naatu."