A History of Selena Gomez's Terrible Boyfriends
From Taylor Lautner to the less compelling Chainsmoker, why does our smirking siren keep picking duds?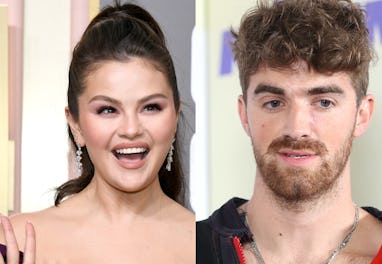 Left: Jon Kopaloff/Getty Images Right: Rich Polk/Getty Images for iHeartRadio
ONLY LOVERS IN THE BUILDING
America's finest tabloids are reporting that Selena Gomez is dating Drew Taggart of the rockin' electro-duo The Chainsmokers, who you might remember for his time as your roommate back in Boulder whose mattress you stole. A source confirmed to Us Weekly that Gomez, our droll little gumshoe with the complicated emotional life and the mystery tattoo, and Taggart, who is known for having threesomes with his bandmate whom I assume is his older brother, "go bowling and to the movies."
While we're happy for Selena, she deserves better. She always has. She's dated some of the most terrible men on earth, save MBS, Kody from Sister Wives, and that Instagram guy who spells out inspirational quotes with mylar balloons. She deserves a man like Martin Short or, barring his availability, a non-famous wealth management advisor for athletes who will treat her like the star of Wizards of Waverly Place that she's always been.
We pray that Drew treats her right, but our expectations are low. Let's take a look back at the major duds with whom Selena has shared her time.
Nick Jonas
We all know Jonas has found indelible love with his beautiful wife and IG activist Priyanka Chopra Jonas, with whom he shares a child and with whom, if the stars align, he will one day share a Christmas holiday. But in 2008, he was Mr. Selena Gomez.
The relationship between Jonas and Gomez did not make it through the winter of that year, but she got Taylor Swift out of the ordeal, who was dating Nick's older brother Joe at the time. According to Gomez in an interview with Kiss FM (via Yahoo), "We actually dated the Jonas Brothers together," Gomez said. "It was hysterical."
Taylor Lautner
Our siren dated the werewolf Taylor Lautner briefly in 2009 after they met while filming different projects in Vancouver. Lautner's star burned bright and blew out, and his biggest role to date is being husband to a woman who is also named Taylor Lautner.
If only Selena Gomez could find a second Selena Gomez.
Justin Bieber
Bieber. A bad boy. Forever struggling. Strong relationship with a false god. Complicated. Imperfect. In most ways, Bieber was Gomez's twin flame. But they were doomed. The two dated on-and-off between 2010 and March 2018. Bieber married a woman he hates, Hailey Baldwin, in September of that year.
Obviously, something is amiss in the Bieber household, as they have both suffered mysterious and horrifying health emergencies since the beginning of their marriage. I am convinced that there is a gas leak in their bedroom or some sort of mold with a neurotoxin destroying their health bit by bit. Selena got out just in time.
Orlando Bloom
Bieber punched Orlando Bloom over his allegedly twisted, ciggy, squatty romance with Selena in 2014. They went to Vegas once together in 2016, too, and a lot of tabloids made the same joke that Selena couldn't "keep her hands to herself," as they were allegedly groping each other at a club. Fun!
Bloom now shares a beautiful Republican baby named Daisy Dove with Katy Perry.
Zedd
Can't remember who this guy is, but apparently he and SG met while he was peeing in 2015. They released a love ballad about the incident together called "I Want You To Know."
Zedd is now dead, maybe.
Niall Horan
Gomez was reported to have dated the Irish One Direction also-ran in 2015. If it's not Harry or Zayn, we're moving the hell on.
Samuel Krost
Selena's NYU grad and Fyre Fest organizer boyfriend. No. No no no no. No. No! Ew. What. Get away from her.
Charlie Puth
An unremarkable affair. The 2016 song that was the result of this relationship is a banger though, and I'm not even a die-hard Puther.
I assume they don't talk anymore.
The Weeknd
Gomez's relationship with Abel Makonnen Tesfaye, aka The Weeknd, endured ten months, longer than any of us could've expected, but seemed to dissolve around the time of her kidney transplant in 2017.
The Weeknd was definitely dating Angelina Jolie last year before moving onto one of those DJs/cosmetics entrepreneur/ twins named Simi Khadra, who has straightened her hair at some point in the last five years.
Good luck, Drew and Selena! I'm sure whatever song you're working on and promoting right now is going to be killer.