Aaron Taylor-Johnson as Bond? Fine, Actually
You don't want to see a guy you love play Bond, but you also don't want to see a guy you hate play Bond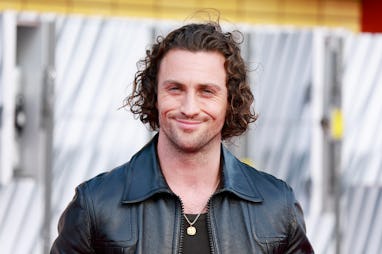 MICHAEL TRAN/AFP/Getty Images
As Daniel Craig continues to milk his Foghorn Leghorn accent for all it's worth for Rian Johnson and Netflix, the hunt for a new actor to play James Bond is still ongoing. To be fair, for as long as Daniel Craig has been Bond (15 years!), there has been a search for a new one. It's not that Craig was bad — often he was quite good — but that he so openly loathed the character and found the enterprise morally stagnant. Thankfully, he was put out of his misery (literally) at the end of 2021's No Time To Die.
Now the rumor mill churns once again, with Puck reporting that Aaron Taylor-Johnson leads the pack (alongside, it's said, Regé-Jean Page, a.k.a. the hot duke from Bridgerton, and one of the guys from Emily in Paris — don't ask me which). Everywhere I look, people want to know if this is a good idea and who this guy is and why can't Idris Elba be Bond, or what about Tom Hardy, so to ease your mind and my own, here is the official Gawker word on this:
Aaron Taylor-Johnson would be a good James Bond.
Taylor-Johnson, who once starred in Kick-Ass, the "Deadpool humor"-laden anti-superhero superhero flick before there was Deadpool, has been quietly churning out strong supporting work for the past several years. He was perhaps one of two-and-a-half good performances in this summer's needless Bullet Train, but prior to that, he had great turns in Christopher Nolan's Tenet and Joe Wright's Anna Karenina. He also randomly won a Golden Globe for Nocturnal Animals, the second feature film made by fashion designer Tom Ford — 2016 was a different time, okay?
Taylor-Johnson, 32, would be a good Bond if only because — and don't get mad at me — it's obvious that playing Bond is something of a curse, a pair of golden handcuffs that most, if not all, of the chosen actors turn on over time. We don't want to see a guy we love get tethered to Bond for 15 years. We need Idris Elba doing shit like Beast (jk, unless…?) and Tom Hardy mumbling his way through some British geezer flick. On the flip side, Rége-Jean Page and the Emily in Paris guy are too anonymous: I literally don't know one of their names. Plus, Netflix is so on the outs with Hollywood right now — even Rian Johnson is mad at them! — that it would give the streaming service too much credit to have been the launching pad of the next James Bond.
As for other things that Taylor-Johnson brings to the table, he might — and don't get mad at me again — advocate for older, more mature Bond girls, given the generous age difference between him and his 55-year-old wife. He could even lend a much-needed sense of brevity to the character. "Aaron Taylor-Johnson is funny?" you might ask. Well, he's not not funny, that's for sure. And he's not not handsome, and he's not not talented, which puts him exactly on par with Pierce Brosnan.