I Am Frankly Inspired by the Becoming Na'vi Girlie
She is using her powers of Photoshop for good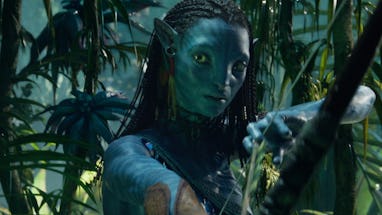 Something I did not consider as I hovered on the brink of motion sickness during Avatar: The Way of Water is how cool it would be to become a Na'vi. That, of course, is the plot of the first Avatar film, in which Jake Sully learns just how cool it would be to be nine feet tall and blue. By the end of Avatar: The Way of Water, I hated Jake Sully, and I was ready for him to become a human again (impossible, unfortunately, unless James Cameron has cooked up something new for one of its myriad sequels) and leave the Na'vi alone.
There are two factions of Na'vi that have been mercifully untouched by Sully's violent reign of terror, and those are: all the Na'vi we have yet to meet in the Avatar franchise, and Becoming Na'vi, an Instagram account run by a girl named Bailey, who often photoshops herself hanging out with her own Na'vi doppelganger.
You may have seen this photo making its rounds on Twitter, but there are dozens more where that comes from. Bailey's account documents not only life on Pandora, but life at the Avatar: The Way of Water premiere which she and her Na'vi would have loved to attend if invited. Hello, Fox?? Let's figure this out in time for the next movie. It is also a stirring account to the powers of personal growth in terms of how much better Bailey gets at Photoshop over time. As someone who is constantly asking a Gawker editor how to stitch two photos together for a header image, I greatly admire her commitment to learning. That Bailey's Instagram stories often feature the Na'vi fan art of those in the greater Avatar community only warms my heart further. I wish I could summon this kind of enthusiasm for a movie that almost gave me an aura (derogatory).
Whatever Becoming Na'vi is — and I'm not sure science has a word for it — is the opposite of posting a movie title in all-caps. It's the opposite of having a Letterboxd account. It's full-fledged faith. It's the last ten minutes of Contact. It's all belief, no intellectualization: just a girl who knows that it would be so cool to be so tall and also blue and have freckles that glow in the dark. I know I forgot that, and I know Jake Sully — on the lam, with violence and fire following him everywhere he goes — has forgotten that too.