They're Trying to Make Brad Pitt "Mayor of Hollywood" and It's Not Working
His front row center seat at the Globes put all eyes on him, but he deflected at every turn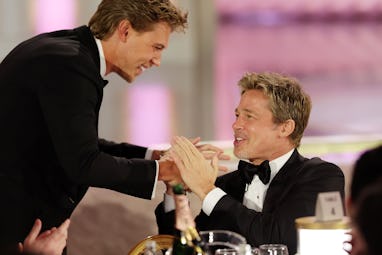 Rich Polk/NBC/NBCUniversal/Getty Images
On the Vanity Fair awards-season podcast "Little Gold Men," the hosts often refer to the person sitting front row, center stage at awards shows as the "Mayor of Hollywood." This figure is an ambassador, so to speak, between the person winning the award and the audience. Often, the role comes with a metaphorical kissing of the ring, or a literal shoutout.
For a number of years, Jack Nicholson was the Mayor, but as he's aged, the awards shows have futzed around with who fills that key seat. Sometimes it's been Meryl Streep; other times, Tom Hanks. Both have served well, but neither was in attendance tonight at the Globes, which left that seat wide open for a certain interloper — Brad Pitt.
So how did Mayor Pitt do? Well, nearly every other winner mentioned his name. Austin Butler and Quinta Brunson were quick to shout him out. Presenters, too: Harvey Guillén stopped his announcing to give Pitt a little wave. It seemed like everyone who got up there had something to say about him. More attention for one of the world's most already famous men who is, regretfully, in his flop era.
Why is Brad Pitt in his flop era, you ask? We've detailed his recent hardships — less-than-stellar films, ongoing litigation against his ex-wife Angelina Jolie, fake girlfriend. And to me, his presence — if you could call it that — at the Globes shows that maybe, Brad Pitt no longer has "it." He had no banter with the numerous people on stage wanting to flirt with him. He deflected, he demurred. He wasn't charming, nor interesting, or really all that dashing, or anything that anyone on stage suggested he was.
Pitt unsuccessfully tried to not make it all about him, not realizing that it was about him whether or not he wanted it to be. The Mayor needs to flaunt it, just a little, or else it looks like he's embarrassed to be there. But I guess if I was in Babylon, I would be too.