The IKEA shark's enduring appeal approaches a decade of memeability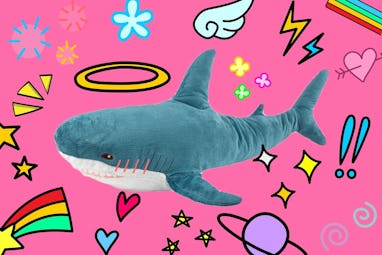 Blåhaj: IKEA; Illustration: Gawker
The hottest home accessory is not an arched floor mirror nor string lights nor the West Elm couch that we all hate: It's Blåhaj.
You know Blåhaj, whether you know Blåhaj or not. The IKEA plush shark toy has been an iconic part of the Swedish furniture and home goods store since 2014. A little over three feet long, with a slate-blue top coat and a soft white belly and the weight of but a feather, Blåhaj is the size of a child with no bones, give or take a few inches. It is a perfect body pillow or statement piece, elegantly draped across a couch or bed, or perhaps posed on a chair. Its name is Swedish for "blue shark," the real-life animal on which Blåhaj was modeled.
I am biased, of course, because I possess a Blåhaj. I didn't go looking for Blåhaj; Blåhaj came looking for me. It was 2019; a routine IKEA visit with a new roommate. We were in search of the typical IKEA fare: cheap rugs, kooky lamps, miscellaneous kitchen utensils. Blåhaj beckoned both of us with its amiable posture (flat, lying down) and welcome appearance (permanent smile). Blåhaj, though three feet long, was only $30 — the perfect price for any economically independent adult to find mostly negligible. The shark came home with us, along with some dining room chairs and a rug. We renamed it "Sharkus."
Sharkus became a member of the family, a cherished participant. No one could take a seat on the couch without scooping it up to hold during movie watching or TV time. When that roommate and I eventually went our separate ways, she bought a replacement. No home is home without it. Blåhaj is a perfect middlebrow signifier: the sign of someone who had $30 to spare to have a good time at IKEA.
The staying power of Blåhaj transcends the bounds of my tristate social circle. The shark toy has been a meme for a while now, starting with this Tumblr post of a Blåhaj consortium in 2014.
Since then, a robust fan community for Blåhaj has sprung, their worship far more conceptual than my own appreciation of the shark as decor. Users on the r/BLAHAJ subreddit frequently post Blåhaj fan art or photos of their sharks posing together and with other toys. There is also, of course, the infamous "me and the boys like sharks" image that was taken in Moscow and has gone on recirculate on every social media platform:
Blåhaj achieving meme status is perhaps not all that surprising. Sharks have proven some of the most meme-able animals over the past decade. Remember Left Shark? Shark Week? Baby Shark? That there is now a hygge answer to the question of "Shark?" is no real surprise.
Blåhaj even garnered support as a trans symbol in the late 2010s after a referendum on same-sex marriage in Sweden led to IKEA using Blåhaj in an ad that said, "Marriage for all." In an age when many companies are unwilling to show political support, IKEA has somehow granted Blåhaj the right to political independence. Now if only the shark could say something about, say, deforestation, then we could really get cooking.
It is only a little strange that sweet ol' Blåhaj has emerged as an icon with perfect politics and an even more perfectly mutable posture. After all, it is an object on which all the kooks online — myself included — can project their views. The boys, the LGBTQS, the children (whose interest in a stuffed animal is perhaps more pressing than that of an adult buying a little treat) — they can all find something to love in Blåhaj. Any trip to IKEA will introduce consumers to a whole animal kingdom of stuffed animals, but none with the draw of Blåhaj, may they reign forever.