Oscar Nominations 2023: It's a Fun Year!
Finally, a slate of nominations that might actually make people tune in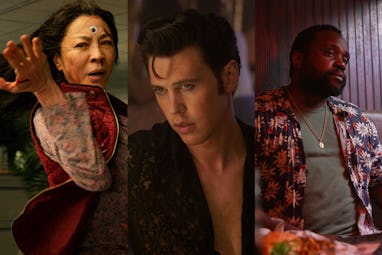 Everything Everywhere All at Once: A24. Elvis: Warner Bros. Causeway: Apple TV+
This year, the voting body of the Academy of Motion Picture Arts and Sciences finally decided to do what people have been telling them to do for years: nominate movies and performances that people actually saw and enjoyed. That is not to say that there aren't clunkers in the mix — looking at you, Ana de Armas — but taken as a whole, the 2023 Oscar nominees feature a comfortable mix of major popcorn movies like Top Gun: Maverick and small but mighty indies like Aftersun. One of my coworkers who has not been Oscar-pilled even said she "might actually watch lol." That's a win for the Academy.
The most unsurprising category of today goes to Best Picture, where nominations went about the way everyone thought they would. This is almost exactly the list that the professional Oscar prognosticators at Gold Derby predicted a few days ago, with the only minor surprise coming in the form of Triangle of Sadness taking The Whale's spot.
Perhaps the only surprising-ish takeaway here is one that became obvious throughout the nomination ceremony: We all have to watch All Quiet on the Western Front now. Nominated for nine awards, the German adaptation of Erich Maria Remarque's harrowing World War I novel is clearly a big hit with awards voters. Congrats to Netflix for once again having a Best Picture nomination; maybe this year it'll work out.
When it comes to Best Actor, it's a bit of a two-man race. Will Colin Farrell's heartbreaking turn in Banshees of Inisherin or Austin Butler's tour de force Elvis impression (compliment) take the statue? That's something to figure out later, but for now, I'm happy to see that Paul Mescal is technically in the running for Aftersun. He's gonna lose, but a nomination is enough to say that he does indeed stay winning. As for Bill Nighy in Living? Sure. Brendan Fraser in The Whale? Once seen as the total lock for this award, it seems as though enough people have seen this movie by now to know that a nomination would be more about the narrative of Fraser's career than this particular performance.
Speaking of career narratives, if you're a betting man I would put money on Angela Bassett winning for Best Supporting Actress. Yeah, it's for a Marvel movie, but the people who vote for the Oscars love to give out what is essentially a lifetime achievement award. Remember when Julianne Moore won for Still Alice? It'll be like that, but more people have seen Bassett in Black Panther: Wakanda Forever. It is nice to see Everything Everywhere All at Once's Stephanie Hsu and The Banshees of Inisherin's Kerry Condon get their nominations, though — two legitimately impressive performances that deserve plaudits. As for Hong Chau in The Whale? It would have been more fun if they had nominated her for The Menu.
Best Supporting Actor is truly up in the air. EEAAO's Ke Huy Quan has been giving nothing but grace and good speeches this season, which might be enough to take him to the finish line. But Brendan Gleeson and Barry Keoghan are both incredible in Banshees, Judd Hirsch has just one scene in The Fabelmans that he hits out of the park, and while I have not seen Causeway yet, "Oscar winner Brian Tyree Henry" has a great ring to it.
The most wackadoo category by far this year is Best Actress. Andrea Riseborough's last-minute campaign worked: She has swung a nomination for To Leslie. It turns out that if you have a lot of famous friends, you actually have a little bit of pull in Hollywood. Who'd a thunk! Also in this category is Ana de Armas for Blonde, which is legitimately offensive. These women seem to have knocked out Viola Davis for The Woman King and Danielle Deadwyler for Till, which will go down as some of the more upsetting (read: racist) snubs in Oscar history. Neither Riseborough nor de Armas have the same inertia as EEAAO's Michelle Yeoh or Lydia Tár, a.k.a. Cate Blanchett, who are locked in a dead heat at the moment. And Michelle Williams for The Fabelmans? Well, she's just happy to be there. And I am happy that her bestie Busy Philipps will get to go to the Oscars again.
Last but not least, the category which might get the most people to figure out how to watch live TV is Best Original Song. Lady Gaga is nominated for "Hold My Hand" from Top Gun: Maverick, and Rihanna is nominated for "Lift Me Up" from Black Panther: Wakanda Forever. I hope that Gaga brings a real fighter jet onstage and uses the ejector seat to start her performance. Plus, a live performance of RRR's "Naatu Naatu" will almost certainly go viral. Diane Warren, bless her heart, is nominated for the 14th time — once again for a song that nobody heard from a movie that nobody saw — and will continue on her losing streak. Shut out from this category is Taylor Swift, who spent too much time trying to be seen as a serious director to realize that her Oscar nomination for "Carolina" from Where the Crawdads Sing could have been an easy lock. Lose some, lose some.
The major takeaway from this year's nominations is that we're all (mostly) having fun. There will be a lot of very famous people at the Oscars, which means that hopefully a lot of people will actually watch the Oscars. For an organization that oftentimes manages to miss a layup, the Academy didn't do so bad this year. I can't wait to tune in to see how they fuck it all up.