Regular Food Review: Disney World Breadsticks and Marinara Sauce
It was either that or worse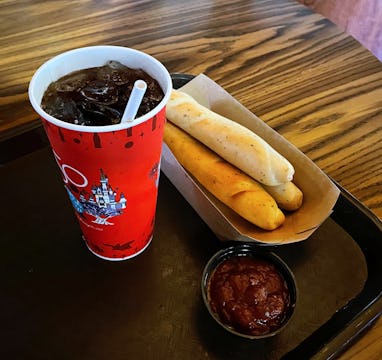 Jenny G. Zhang
Contrary to what an entire cottage industry of breathless listicles and frenzied "what I ate in a day" TikToks set to the tune of old-school Disney theme park songs would have you believe, the food at Disney World is not universally amazing. In fact, I would go so far as to say that…
…
…
…
… IT SUCKS.
This is just one person's opinion, of course, although that opinion is based on lived experience (recently visiting Disney World Orlando for the first time in nearly two decades), even if that lived experience admittedly comes with some asterisks (I don't eat meat, I'm in denial about my lactose intolerance, and I refused to commit to any sit-down dining reservations, which is apparently where the "good" stuff is supposed to be).
Over the course of three and a half days (the last half day was interrupted by a hurricane), I sampled a portion of what the sprawling Mouse empire's four Florida theme parks had to offer. Here are some things that I ate and what I thought about them, in no particular order:
Dole whip and Dole whip float: nice at first, but ultimately too one-note
Mickey Mouse-shaped soft pretzel: pretzel was cold and hard, the accompanying packet of "cheddar cheese-flavored" goop was even colder and harder
Funnel cake with strawberries and powdered sugar: more cloyingly sweet than anything I could've prepared myself for
Mr. Kamal's seasoned fries: all right
Mickey Mouse-shaped ice cream bar: a regular ice cream bar with price gouging
French fries and plain rice: on par with hospital food
Samosas: cold, but otherwise standard
French pastries: I've had better (the crème brûlée wasn't bad, though)
Norwegian rice pudding: a perfectly fine dessert ruined by the tooth-achingly sugary strawberry sauce slathered on top
The only dish that I could sincerely describe as some good fucking food was the chili-spiced crispy fried tofu bowl at the Satu'li Canteen in Pandora, a.k.a. Animal Kingdom's Avatar realm. Out in the real world, this bowl — fried cubes of tofu on a bed of rice or noodles, topped with vegetable slaw, a sauce, and surprisingly inoffensive popping boba balls — would be on par with elevated slop from Cava, or Chipotle, or any other halfway-decent fast-casual chain oft frequented by nearby office workers for lunch. But in Disney World, it was a rare culinary gem: a quick-service meal that genuinely tastes as if it were cooked by humans, rather than something that was unpackaged, thrown into a toaster oven, and then kept under a heat lamp. Even better, in my view, it offered tofu instead of some fake imitation meat, actual vegetables, and even some flavor and spice — all things that are otherwise pretty difficult to find at the Happiest Place on Earth.
Compare that to the pictured trio of doughy, bland, so-called "garlic" breadsticks with a cup of gloopy marinara sauce, purchased for $5 at Pinocchio Village Haus in Magic Kingdom. This is more typical of the Disney World's quick-service dining output, which is basically low-cost cafeteria food churned out en masse and with frightening speed by overworked kitchen staff, and sold at jacked-up prices to a captive audience. The breadsticks weren't good by any standard — but they were there, and I was hungry, and that's how they got me. At least the Coke with ice was crisp. 1.5/5 stars.