Bad Morning America: T.J Holmes and Amy Robach Fired for the Crime of Love
No more afternoon delights for TV's most charismatic cheaters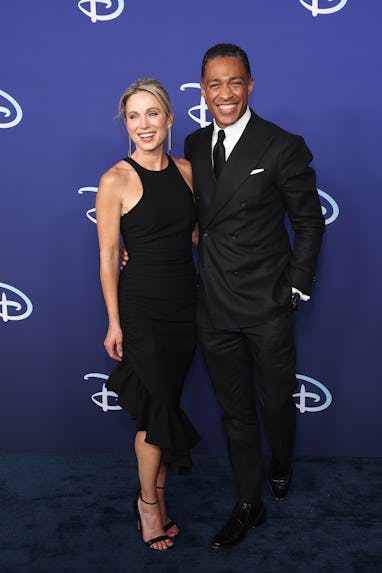 Arturo Holmes/WireImage/Getty Images
T.J. Holmes and Amy Robach, the recently-suspended hosts of ABC's Good Morning America-adjacent lunchtime segment GMA3: What You Need To Know, will not be saying good morning at lunchtime any longer. Us Weekly reports that they have been fired.
"Amy and T.J are out, a decision has been made," a source tells Us about Robach, 49, and Holmes, 45. "The network is negotiating with them on their exit deals and an announcement."
The co-hosts were put on hiatus in December, after pictures emerged of the pair on a weekend getaway in the "Shawangunk Mountain region," where they apparently got up to some romantic activities such as grabbing butts, drinking beers, and going to the hospital. Both were married to other people at the time, though they had reportedly separated from their respective spouses in August and have both since filed for divorce.
This on-camera coupling came as a surprise to the public, much of which had likely never heard of them before. But it was apparently an open secret inside ABC, where at one point, Holmsbach were told to "knock it off." They did not, and when the evidence showed up in the Daily Mail, ABC put the duo on ice, claiming their obvious chemistry had become an "internal and external distraction."
The status of their possible return to GMA3 had been uncertain, even to the two hosts. This morning, TMZ reported that both Holmes and Robach had lawyered up, with T.J. hiring celebrity attorney Eric George and Amy going with well-known Hollywood lawyer Andrew Brettler. The couple was prepared to file a lawsuit, TMZ said, as they claimed the network had previously told them it would not pursue disciplinary action.
That sounds juicy and potentially interesting, but ultimately, they should cut their losses and just go independent. No one watches the third hour of Good Morning America anyway, and Holmes and Robach now have scores of fans on the internet who I'm sure would love to see them host a dating show for divorcés. They need to seize the moment, cut a fat deal with Netflix, and get to filming some "self-aware" TikToks STAT.