Sam Bankman-Fried Starts a Substack
The logical next step in his non-apology tour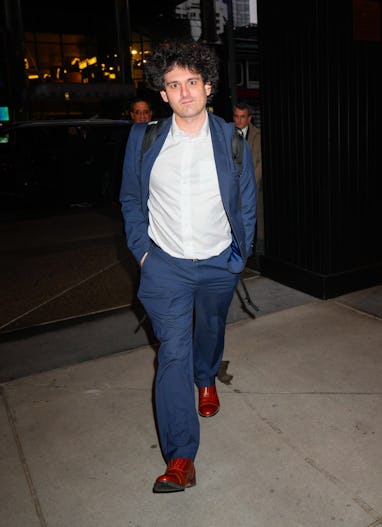 Gotham/GC Images/Getty Images
Since the downfall of FTX in November, erstwhile billionaire Sam Bankman-Fried has gone through an expedited version of the aggrieved media exile cycle: initial denial, rapid tweet deletion, an extended apology tour, intermittently bitter condemnation of prior values, rejection by once-close friends, and eventually, federal indictment. This morning, he took the logical next step and started a Substack.
The stack in question is called, creatively, "SBF's Substack," and is linked to the house-arrested ex-executive's Twitter account. The newsletter briefly offered paid tiers — where users could contribute $8 a month, $80 a year, or $150 for a "founding" membership, but that feature was removed shortly after the site went live.
At 8:02 this morning, Bankman-Fried published his first post, titled "FTX Pre-Mortem Overview," in which he effectively maintains his innocence, claiming his companies did not steal user funds and that FTX's U.S. subsidiary is still in the black. (Notably, the new CEO did recently claim to have recovered some $5 billion of the missing $8 billion funds). "I didn't steal funds, and I certainly didn't stash billions away," Bankman-Fried promises. "Very substantial recovery remains potentially available. FTX US remains fully solvent and should be able to return all customers' funds."
The post goes over Bankman-Fried's version of events — which attributes the billion-dollar losses from his crypto hedge fund, Alameda Research, to the crypto market crash, rather than mismanagement and illicit borrowing. He maintains that he hasn't "run Alameda for the past few years," and that if the new executives at FTX had just raised more liquidity they could have circumvented this whole mess. Ok!
Perhaps most juicily, Bankman-Fried also addresses the recent Congressional interest in FTX's long-term legal counsel, Sullivan & Cromwell — which earned $8.5 million from the crypto exchange before it imploded, but remains working on its bankruptcy case. Earlier this week, four U.S. Senators, including Sen. Elizabeth Warren, wrote a letter questioning the firm's involvement. "Given their longstanding legal work for FTX," the senators wrote, "they may well bear a measure of responsibility for the damage wrecked on the company's victims."
Bankman-Fried seizes on that concern, heavily implying the lawyers bore the bulk of blame. The firm, he claims, was one of FTX International's "two primary law firms prior to bankruptcy," and "FTX US's primary law firm," who worked on the companies' most important regulatory applications, concerns, and transactions. "When I would visit NYC," he wrote, "I would sometimes work out of S&C's office."
Why might Bankman-Fried feel so embittered toward his former legal advisors? It appears to be personal. Sullivan & Cromwell, along with FTX's general counsel, he said, "were the primary parties strong-arming and threatening me into naming the candidate they themselves chose as CEO of FTX."
This could be a canny move from Bankman-Fried, given the only people more loathed than crypto guys are lawyers.
This post has been updated to include information about the Substack's paid tiers.