That One Guy We All Love Should Play George Santos
Nelson Franklin deserves to be a streaming star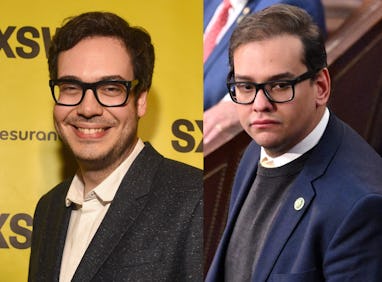 left: Amy E. Price/Getty Images for SXSW right: MANDEL NGAN/AFP via Getty Images
Every time I see disgraced Republican Rep. George Santos, I experience a brief flash of excitement. Not because of schadenfreude due to how much everyone hates him, but because for a second or two, I think he's that guy we all love — that silly and self-effacing cutie, the goofball with the horn-rimmed glasses. I'm talking about the loveable actor Nelson Franklin, who should be booking a lot more gigs, starting with the lead role in whatever Santos biopic eventually gets greenlit in the next few years.
Franklin has a lot to offer, in terms of both his acting reel and his star power. Everything that he does is perfect. He was one of the funniest parts of Scott Pilgrim vs. the World as the know-it-all Comeau. He played Cece's and then Jess's doofy-sweet boyfriend Robby on New Girl, one of the only good parts of that show's later seasons. He was also a genius guest star/recurring player on otherwise mid sitcoms like The Office, The Millers, and Black-ish. But most relevant of all is his experience on Veep, where he played an emasculated congressional aide named Will who has been working for the same guy since he was 15. This guy knows what it's like to be a Capitol cuck — perfect for depicting Santos.
Just look at the physical similarities between Franklin and Santos:
As for what exactly will make up the bulk of the inevitable eight-episode streaming-exclusive limited series about the rise of the GOP's purported first openly gay elected official, there's plenty of drama to choose from. Right now, we know that Santos lied about his education, religion, and job, and possibly even his name. He may be extradited by the Brazilian government over a 15-year-old case regarding a stolen check, according to the New York Times. More comes out about this guy every day — it's a veritable buffet of riches for whoever eventually pitches the series (which hopefully also stars Amanda Seyfried and Alan Ruck).
But at the end of the day, I don't care if the rights to the project are handed over to Ryan Murphy or Mindy Kaling or Veep creator Armando Iannucci. I just want Franklin to be front and center, his bumbling mannerisms lending a much-needed affability to Santos's loser character. On television, we need a protagonist to be at least likable enough for us to make it through the first three episodes. Franklin's ready to be a star, as long as he's willing to lie through that sweet smile for it.