Meet Rep. George Santos's Non-Fictional Staff
Congrats to these three rockstars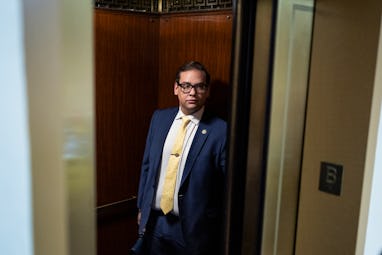 Tom Williams/CQ-Roll Call, Inc./Getty Images
Rep. George Santos, the Long Island Congressman who has spent the past year giving Jim Carrey's character in Liar Liar a run for his money, has managed to hire at least three employees. Some might be put off by the prospect of working for a guy who lied about so many details of his backstory — from his fake real estate to his fake animal charity to his grandparents' fake death in the Holocaust — that he forgot to make them sound cool (Santos claimed to have been the "star" of the Baruch College volleyball team). But this is America, where a new crop of strivers will always debase themselves for pay.
News of Santos's hires came out from the congressional database LegiStorm, which was updated earlier this week to include three positions: Communications Director Naysa Woomer, Transition Aide Charles (Charley) Lovett, and Legislative Assistant Rafaello Carone. (None of them immediately returned Gawker's request for comment.) All three are Republican Party veterans, though the term may be a stretch for Carone and Lovett, both of whom were in high school when Trump first took office.
Naysa Woomer
Woomer came to Santos's staff from the Massachusetts Department of Revenue, where she worked for three years, according to LinkedIn. Before that, she spent a year doing comms for the Massachusetts Republican Party, and four years working as a "scheduler" for three Republican Congressmen. She once interned for Rick Santorum and later worked on several failed GOP campaigns, including that of Dan Quiggle, a fringe Florida State Senate candidate in 2009 whose chief qualification, one paper wrote, was "that he once worked for Ronald Reagan after Reagan had left the White House."
Charles Lovett
Lovett was Santos's campaign manager before becoming his chief of staff. He graduated high school in 2017 from Open Door Christian Schools — which is in fact just one academy in Ohio, whose "About" page lays out a dedication to what it calls the four "Patriot Principles" (God, Identity, Responsibility, Relationships). According to LinkedIn, Lovett went to Grand Canyon University — a for-profit Christian university in Arizona, whose online enrollment makes it a contender for largest Christian school in the country.
He went on to work for Ohio Senate candidate Josh Mandel's controversial 2022 campaign. Mandel made headlines at various points for claiming that George Soros orchestrated the pandemic, the Black Lives Matter movement, and Jan. 6, as well as for setting up a Twitter poll, in which he asked which kinds of "illegals" committed more crime — "Muslim Terrorists" or "Mexican Gangbangers." The latter got him suspended from the platform for 12 hours. Then, multiple members of his staff quit over claims that Mandel was dating his finance director, and that the two used to "go out in the hallway and scream at each other." For Lovett's sake, let's hope George Santos's office will be a healthier work environment.
Rafaello Carone
Carone graduated from the New York's alliteratively named Half Hollow Hills High School West in 2019 before attending Pace University, where he briefly worked for the Republican National Committee. According to LegiStorm, he left Pace after two years to be former Rep. Madison Cawthorn's social media manager, and later did very brief stints in the offices of Florida Rep. Greg Steube and Arizona Rep. Paul Gosar.
Carone also serves as the "President" of Liberty & Justice Consulting Firm — a North Carolina-based campaign consultancy that Carone himself founded in 2021. On its website, Carone claims he started the firm to "send a new wave of conservative leaders to Washington to hold all parties accountable to the people they're meant to serve." He also lists the firm's clients — a group called "Virginia for America First," whose website is defunct, and nine political candidates. All of those candidates, save the two whose elections have not happened yet, lost their races.
Politico reported that Carone also advised 2022 congressional candidate Dean Tran. The ex-Massachusetts State Senator was indicted last July on six charges related to accusations that he intimidated an elderly constituent, forced himself into her home, and stole her husband's gun. Tran pleaded not guilty to the charges. He also lost his race.