Homophobia or Antisemitism? Nobody Will Sit Beside Rep. George Santos
The embattled liar attended Congress's first session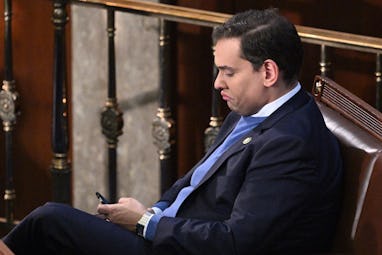 MANDEL NGAN/AFP/Getty Images
As a fierce legal mind and a notorious bully in a drab women's pantsuit, I've always loved the first day of Congress. Catching up with old friends, writing with new pens and cracking the spine of a fresh dossier filled with lobbyists' Yahoo emails, sheltering in place for a scheduled attempted coup drill, and, best of all, calling the freshman congresspeople "fresh meat" while sticking their heads in the toilet for a swirly immediately after Rep. Paul Gosar, D.D.S. used it… ahh, the nostalgia.
But for some new kids like Rep. George Santos, the first day is not such an easy, breezy, beautiful walk in the park.
In case you didn't finish your summer reading in time for the new year: New Republican congressman George Santos, who represents a New York congressional district covering part of northern Long Island and northeast Queens, has been caught in several apparent lies since he was elected in November. Local Long Island newspaper The North Shore Leader broke the story of Santos's alleged mistruths months ago, but it wasn't until a New York Times investigation on Dec. 26 that most Americans began to take notice that this guy is faker than the lies about dead celebrities that teens committing elder abuse tell their parents for a few thousand views on TikTok.
Santos, who campaigned on being the first openly gay Republican in the House, failed to disclose that he was married to a woman for several years. Whateva, what bi king who stands among us hasn't been humiliated by their past relationships? But more damning was the discovery that he reportedly lied about his mother dying on 9/11, lied about attending Baruch College and working for CitiGroup and Goldman Sachs, lied about the existence of a tax-exempt charity called Friends of Pets United, and lied about his finances. He claimed to be a Jewish grandson of Holocaust survivors on his official campaign website, but under pressure, admitted to the Washington Post that he was "clearly" Catholic but "Jew-ish" due to some nebulous maternal lineage. CNN reports that the Brazilian government is re-opening charges against Santos regarding a stolen checkbook from 2008. And as if that weren't enough, his ex-boyfriend is also spreading the word that Santos has a poor work ethic and allegedly stole his phone.
OK, so a bad boy shows up to town? You'd think everyone in that rotunda would be flocking towards Santos, asking for dating advice and how to get away with more crimes than they already do. Not so, according to eyewitnesses.
CBS's congressional correspondent Scott MacFarlane reported that the notorious G.A.D.S. sat alone while all of his new colleagues congregated without him and slapped each other's butts like, "Welcome back!"
According to ABC News reporter Ben Siegel, California Rep. and fellow Republican Ken Calvert positively "bolted away" from Santos.
Then the ickle fraudster took to pretending to text his fake boyfriend in Canada (probably) to avoid having to meet anyone else's eyes.
Santos continued to double down on loser behavior by voting for Kevin McCarthy as House Speaker, a measure that failed miserably. Sad!
My advice to fix George Santos's popularity problem? Resign, then lie about it in the most fact-checkable way possible.