The Senate Has Sided With the Swifties
Government of the Swifties, by the Swifties, for the Swifties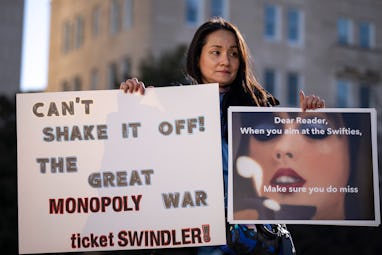 Drew Angerer/Getty Images News/Getty Images
While Taylor Swift was busy getting snubbed by the Oscars, at least six of her fans were stationed on Capitol Hill, or tuning in online, for the Senate Judiciary Committee hearing on Ticketmaster and Live Nation. They were calling on Congress, per a few cardboard signs, to "break it up" — referring to the two companies' controversial merger under the Obama administration in 2010, which created, as the New York Times wrote, "a giant in the live entertainment business that still has no equals in its reach or power."
Tuesday's hearing, titled "That's the Ticket: Promoting Competition and Protecting Consumers in Live Entertainment," was Congress's response to the ticketing fiasco in November, when a presale for Swift's "Eras" tour crashed the website and pushed concert ticket prices north of $30,000. After the outcry over the botched sales, it came out that Live Nation Entertainment was under investigation by the Department of Justice for operating as a monopoly.
That probe is still underway and its findings remain mostly private. The Senate hearing, however, was live-streamed on CSPAN. The result was a multi-hour ordeal featuring the anxiously sweating president of Live Nation, two musicians from an eight-member Rhode Island soul-pop band, an unparalleled concentration of "fathers of daughters," and multiple Swift-related references, starting with Utah Sen. Mike Lee's complaint that Sen. Amy Klobuchar remained the anti-trust subcommittee's chair: "Once again, she's cheer captain and I'm on the bleachers."
There were several important takeaways from the proceedings, such as Klobuchar's recollection of her suburban high school days loading into a friend's van with her pals and "going off to see Led Zeppelin and The Cars and Aerosmith." But the central thrust was fairly straightforward: The Senate Judiciary has sided with the Swifties. "This is clearly a bipartisan endeavor," Klobuchar said in her opening statement. "You can't have too much consolidation, something that unfortunately for this country, as an ode to Taylor Swift, I will say we know all too well."
Live Nation Entertainment president Joe Berchtold, the hearing's first witness, denied that the merger was a monopoly. He claimed the company did not set ticket prices, volumes, or service fees, placing the blame for any inflated prices on scalpers and bots. This did not seem to convince the crowd. Sen. Dick Durbin said the merger's consent decree, which set conditions on how the twin companies could weaponize their joint power, "does not appear to have been effective." Sen. Marsha Blackburn, self-described "wingnut" whom Swift herself opposed in the 2018 midterms, called the bot excuse "unbelievable." Even Sen. John Kennedy, one of Berchtold's most sympathetic listeners, said: "I'm not against big, per se. I'm against dumb. The way your company handled the ticket sales with Ms. Swift was a debacle."
It's still unclear what the hearing will do, beyond offer a soap box for senators to make a play for the under-30 crowd by touting a baseline fluency with Taylor Swift lyrics. But, at the very least, it definitely clarified their feelings on the matter. "Ticketmaster had the temerity to imply that the debacle involved in pre-ticket sales was Taylor Swift's fault because she was failing to do too many concerts," Sen. Richard Blumenthal said. "May I suggest respectfully that Ticketmaster ought to look in the mirror and say, 'I'm the problem. It's me.'" Hope the congressional aide who came up with that was paid overtime.